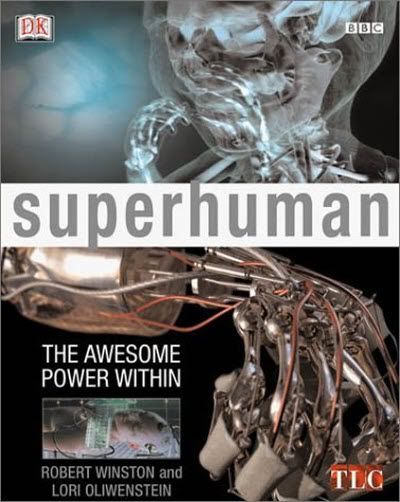 BBC - Superhuman - The Baby Builders (2009) HDTV XviD AC3-DMZ
AVI | 746.3 MiB | 672x384 | DivX 5 @ 1 957 Kbps | English | AC3 @ 192 Kbps - 2 channels | 48mn 22s
Genre: Documentary
Inherited genetic diseases are the second most common reason why babies die but people who carry defective genes, such as the ones that cause cystic fibrosis, are being helped by a technique called PGD - pre-implantation genetic diagnosis. This involves growing embryos in the lab, screening them for cystic fibrosis before placing one in the womb. The programme also explores ways in which eggs can be grown outside the body which could help an enormous group of people such as cancer patients who want to avoid exposing their eggs to chemotherapy. Genetic diseases might also be prevented by the genetic engineering of sperm - an idea that Professor Lord Winston discusses.
Screenshot: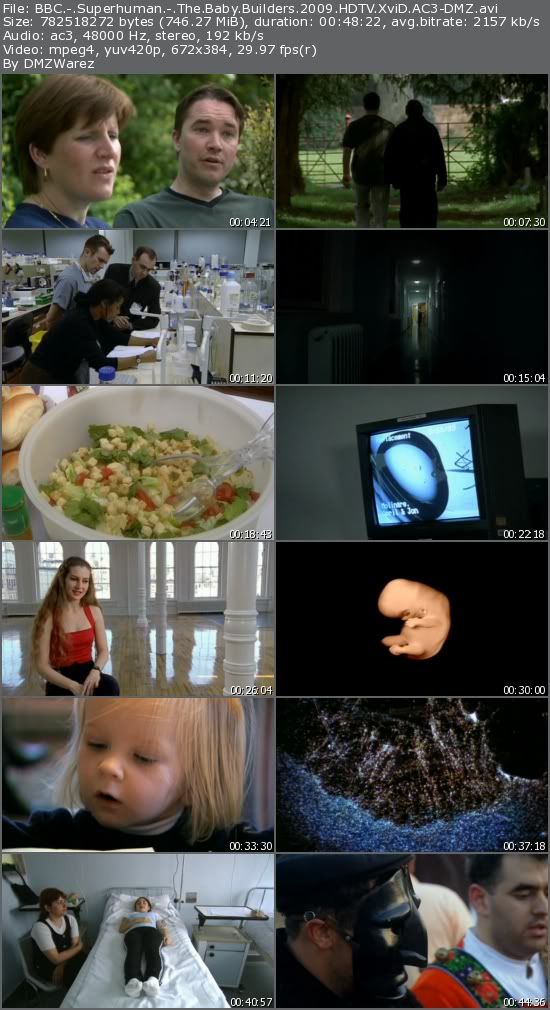 Download Links
Filesonic
http://www.filesonic.com/file/867430044/BBC.-.Superhuman.-.The.Baby.Builders.2009.HDTV.XviD.AC3-DMZ.part1.rar
http://www.filesonic.com/file/867821134/BBC.-.Superhuman.-.The.Baby.Builders.2009.HDTV.XviD.AC3-DMZ.part2.rar
http://www.filesonic.com/file/867447074/BBC.-.Superhuman.-.The.Baby.Builders.2009.HDTV.XviD.AC3-DMZ.part3.rar
http://www.filesonic.com/file/867457584/BBC.-.Superhuman.-.The.Baby.Builders.2009.HDTV.XviD.AC3-DMZ.part4.rar
http://www.filesonic.com/file/867454014/BBC.-.Superhuman.-.The.Baby.Builders.2009.HDTV.XviD.AC3-DMZ.part5.rar
http://www.filesonic.com/file/867456544/BBC.-.Superhuman.-.The.Baby.Builders.2009.HDTV.XviD.AC3-DMZ.part6.rar
http://www.filesonic.com/file/867458544/BBC.-.Superhuman.-.The.Baby.Builders.2009.HDTV.XviD.AC3-DMZ.part7.rar
http://www.filesonic.com/file/867458494/BBC.-.Superhuman.-.The.Baby.Builders.2009.HDTV.XviD.AC3-DMZ.part8.rar

Fileserve
http://www.fileserve.com/file/kSvYFWU/BBC.-.Superhuman.-.The.Baby.Builders.2009.HDTV.XviD.AC3-DMZ.part1.rar
http://www.fileserve.com/file/DuKTdjY/BBC.-.Superhuman.-.The.Baby.Builders.2009.HDTV.XviD.AC3-DMZ.part2.rar
http://www.fileserve.com/file/C4GvbRY/BBC.-.Superhuman.-.The.Baby.Builders.2009.HDTV.XviD.AC3-DMZ.part3.rar
http://www.fileserve.com/file/yqdZMRc/BBC.-.Superhuman.-.The.Baby.Builders.2009.HDTV.XviD.AC3-DMZ.part4.rar
http://www.fileserve.com/file/TzpFAZQ/BBC.-.Superhuman.-.The.Baby.Builders.2009.HDTV.XviD.AC3-DMZ.part5.rar
http://www.fileserve.com/file/TECxTPY/BBC.-.Superhuman.-.The.Baby.Builders.2009.HDTV.XviD.AC3-DMZ.part6.rar
http://www.fileserve.com/file/2hCHuyg/BBC.-.Superhuman.-.The.Baby.Builders.2009.HDTV.XviD.AC3-DMZ.part7.rar
http://www.fileserve.com/file/2NHyj5u/BBC.-.Superhuman.-.The.Baby.Builders.2009.HDTV.XviD.AC3-DMZ.part8.rar

Uploadstation
http://www.uploadstation.com/file/VtzsFvz/BBC.-.Superhuman.-.The.Baby.Builders.2009.HDTV.XviD.AC3-DMZ.part1.rar
http://www.uploadstation.com/file/JVjAwR2/BBC.-.Superhuman.-.The.Baby.Builders.2009.HDTV.XviD.AC3-DMZ.part2.rar
http://www.uploadstation.com/file/QFpabQP/BBC.-.Superhuman.-.The.Baby.Builders.2009.HDTV.XviD.AC3-DMZ.part3.rar
http://www.uploadstation.com/file/bawdn8D/BBC.-.Superhuman.-.The.Baby.Builders.2009.HDTV.XviD.AC3-DMZ.part4.rar
http://www.uploadstation.com/file/evNUVjY/BBC.-.Superhuman.-.The.Baby.Builders.2009.HDTV.XviD.AC3-DMZ.part5.rar
http://www.uploadstation.com/file/MhZRdxy/BBC.-.Superhuman.-.The.Baby.Builders.2009.HDTV.XviD.AC3-DMZ.part6.rar
http://www.uploadstation.com/file/CwE7gz3/BBC.-.Superhuman.-.The.Baby.Builders.2009.HDTV.XviD.AC3-DMZ.part7.rar
http://www.uploadstation.com/file/zBy8RTp/BBC.-.Superhuman.-.The.Baby.Builders.2009.HDTV.XviD.AC3-DMZ.part8.rar